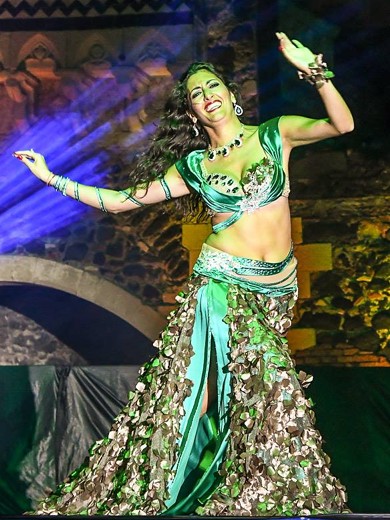 Sara Pappalardo (Italy)

After classical dance, hip hop, Argentinian tango and Latin American dance, Sara devoted herself entirely to her new great passion, the oriental dance. In 2001, back from a journey to Lebanon and Syria, she started studying this discipline with the best international teachers, as f.e. Dr.Mo Geddawi and Amir Thaleb.
In 2002 she took part in the tv program "Rai Prix Italia", shoot in Catania, with the Middle-Eastern Orchestra directed by Nour Eddine. In 2006 she constituted a cultural association, Tery Al Kubra. In the same year, thanks to the Master Nuria Sala Grau, Sara fell in love with Bharatanatyam dance, opening her to Bollywood. She studied in deep Bollywood dance in India at Saroj Khan's school in Mumbai and with Sunny and Suresh Singh, Meera Varma, Mistri, Seeta. She studied Indian classical and folkloric dances with many teachers.
In May 2007, Sara was certified as Oriental Dance Teacher by the Italian Federation for sporting dances, FIDS, and became Federal Judge for competitions. Since 2007 she's been taking part in Sete Sois Sete Luas international Festival as a representative of Sicily, with performances and workshops in Portugal and Spain, often together with the electronic Arabic music band Triatriba directed by the percussionist Giorgio Rizzo. In this framework, she also collaborated with Jamal Ouassini and his orchestra during a special event in the city of Pollina.
Since 2007 till now, Sara started to teach Oriental Dance and Bollywood in many countries: France, Spain, Portugal, Germany, Bulgaria, Belgium, Turkey and all over italy.
In 2010 she organized as artistic director, the first edition of Khamsin Festival, an international festival of Arabic music, culture and dance. So up to now she brought to Sicily many international great artists.
Since May 2013 she is the teacher of Sunny Singh Bollywood Dance Academy in Sicily.
In 2014 she was the director in an European Union's project for the creation of a musical for children.
Currently she teaches Middle-Eastern and Bollywood dance in her school in Aci Bonaccorsi, Catania, she prepare dances for competition, she held master teachers classes all over italy.
Sara is also the art director and choreographer of her Professional Dance Company "le Donne di Ararat" whom dance all over Europe from the last ten years.
Her style is full of elegance and grace.